AIROSA
ÉCUME DE MER
ITSAS-APARRA

© Manex Barace



Interview of Séverine Dabadie on the radio France Bleu Pays Basque april 2014 click here
AVAILABLE IN BOOKSHOPS AND PUBLISHER'S WEBSITE SINCE 14TH SEPTEMBER 2013
PUBLISHED BY
ELKAR

Arsenal Plaza, 64100 Bayonne (France)
Phone : 00 33 5 59 59 35 14

TO GET THE BOOK ON LINE www.elkar.com

Photographs: Séverine Dabadie

Text: Christiane Etchezaharreta and Séverine Dabadie
ISBN: 978-84-9027-118-6
EAN: 9788490271186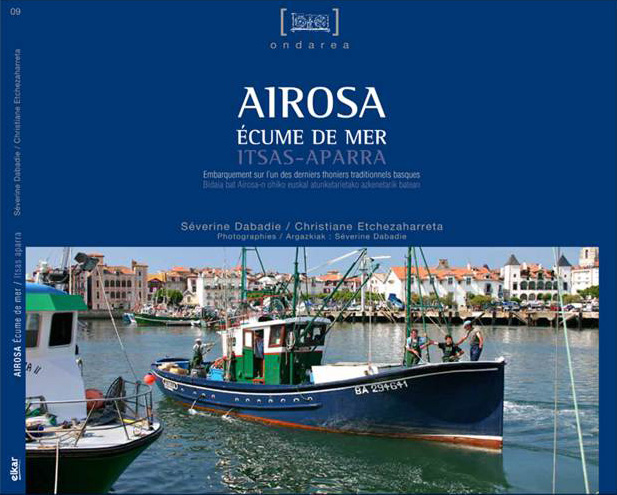 - Bilingual edition (French-Basque)


- Why the Airosa?

Because it is the oldest boat (1953) of the St Jean-de-Luz port and the only surviving witness of the great time fishing. It is one of Franch's few boats classified historic monument (since 2002). However, it is still active and fishing aboard in the Basque tradition.
Its majestic silhouette is unique on the sea.

- What practical fishing there?

It is one of the few boats authorized to fish bluefin tuna with fishing's rods and the technique of bait (Peita). The techniques used are respectful of fisheries resources and considered eco-responsible by defense agencies of nature. Night work called ring net net is also very special and has rarely been treated.

It is a rare testimony, the last vestige of a bygone era



- A forward by Mikel Epalza chaplain of the fishermen (and former fisherman).

- Interview with Didier Martinez, boss of the Airosa and descendant of a long line of fishermen based in St Jean-de-Luz / Ciboure. A sensitive testimony of a free man.

- Sequence uninterrupted series of photographs: life on board, night fishing live bait (anchovies, sardines) called "Peita" traditional bluefin tuna fishing, night fishing for ring net (mackerel), fish landing to the auction.

- Numerous color photographs with captions, available in full page.

- An interview with Serge Larzabal, former fisherman, a descendant of a long line of fishermen based in St Jean-de-Luz / Ciboure and Chairman of the Local Marine Fisheries of Bayonne. He is the representative and negotiator of Basque fishermen fishing quotas with national and international institutions. Balance and perspective of fishing.

- An interview with Charles Montet, former fisherman and President of the SNSM (National Sea Rescue).
VIDEO OF THIS FISHING'S TECHNIC


<iframe width="560" height="315" src="https://www.youtube.com/embed/C_YlgPqfrFk" frameborder="0" allow="accelerometer; autoplay; encrypted-media; gyroscope; picture-in-picture" allowfullscreen></iframe>


On board with the Begnat's crew... but It was before...

Mikel Epalza, defender of the traditional basque fishing.

All rights reserved texts and pictures. © Séverine Dabadie